Tile Trims, Seals And Thresholds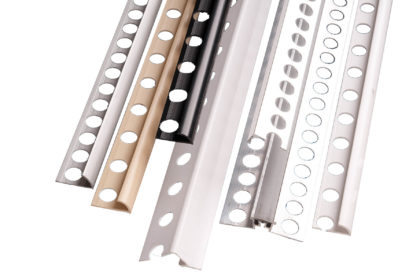 If you want to create interesting design, break up large spaces, change the tile tone or texture and add some features to you tiles or simply just want the part of your wall of floor tiled, it is a great way to do it by using tile trims, seals and thresholds.
For protecting external edges, masking imperfections, decorative finish and neat joint between tils, smooth transition between different levels and to prevent crack formation and seal wet areas to protect from leak and against moisture.
There is a wide range of options available, different colours, shapes, materials and even texture.
---
EXTERNAL ROUND EDGE TILE PVC TRIMS
---
EXTERNAL ROUND EDGE TILE ALUMINIUM TRIMS
---
EXTERNAL STRAIGHT EDGE TILE PVC TRIMS
---
EXTERNAL STRAIGHT EDGE TILE ALUMINIUM TRIMS
---
EXTERNAL BOXED EDGE TILE  TRIMS
---
SEPARATING TILE TRIMS
---
INTERNAL CORNER TRIMS
---
EXPANSION JOINT / MOVEMENT TRIMS
---
OTHER TILE TRIMS TYPES
---
THRESHOLDS 
---
SEALS
---
---
TILE TRIMS FINISH STYLES